Group of companies "DELIVERY" started its work in 2001. The main specialization of the group is providing transportation and logistic services for B2B sector (subjects of entrepreneurial activities and corporate sector) both on the territory of Ukraine and outside its boundaries.
During 12 years of work, our company became a reliable partner for more than 150 thousand corporate clients, working in all the fields of the country's economy.
We are one of the leaders at the logistics market of Ukraine.

Our group tries to provide the widest range of logistic services with high level of service.
Currently group "DELIVERY" includes 3 companies:

Delivery-International
Logistic company on international cargo delivery both to Ukraine and all over the world with aviation, automobile and maritime transport, from documents to sea containers. "Delivery-International".
Professional work with each client: Paperwork with accompanying documents, work with customs authorities, organizing logistic chains of the cargo delivery (multimodal transportation).
Individual calculation of the price depending on the period and volume of the delivered cargo.
The company provides services for physical and juridical persons on international delivery of the documents, parcels, and post packages.


Delivery of cargo with automobile transportation all over Ukraine (LLC "Delivery").
Delivery and pick up of the cargo is performed at the warehouse of the client or to the client's door. We deliver items from 1 kg to 8 tons and provide services of packing your cargo.
Standard rates for transportation are set depending on the weight and the size of the cargo. In case of palleted and off-size cargo, automobile tires and disks, special rates apply. You can also use our specially developed industry solutions, where you will be provided packaging and a special rate for delivery.
The company provides services on individual insurance of the cargo and its safekeeping.

A flexible discount system is developed for our clients.

You can use services of an individual manager.

Additional opportunities are given to the registered on the website clients: tracking of the cargo and delivery management (changing of the addressees, enabling and disabling prohibition for issuing of the cargo, issue of invoices, preparing the receipts for delivery of the cargo and other services)
LLC "Delivery" means:
More than 1,000 trips daily.

More than 200 representative offices in Ukraine.

27 sorting and distributing centers.

More than 2 thousand employees.

15 regional offices on servicing the clients.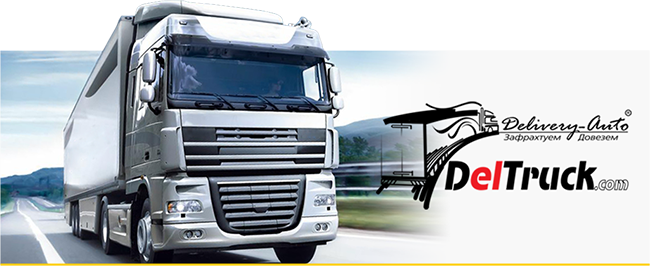 DelTruck
Transporting of cargo by fully chartered automobiles for one customer from 2 tons with one or several addresses of loading and unloading on the territory of Ukraine (LLC "Delivery Auto").
Selecting an individual automobile and type of a trailer (tent, fully metal, refrigerator), depending on specificity of the cargo and required loading (back, side, top) to deliver the cargo to any place in Ukraine. Flexible working hours, fast selection of a truck and its round the clock control of movement.

Group of companies "DELIVERY" works for your business, delivering the goods and products with minimum logistic costs.