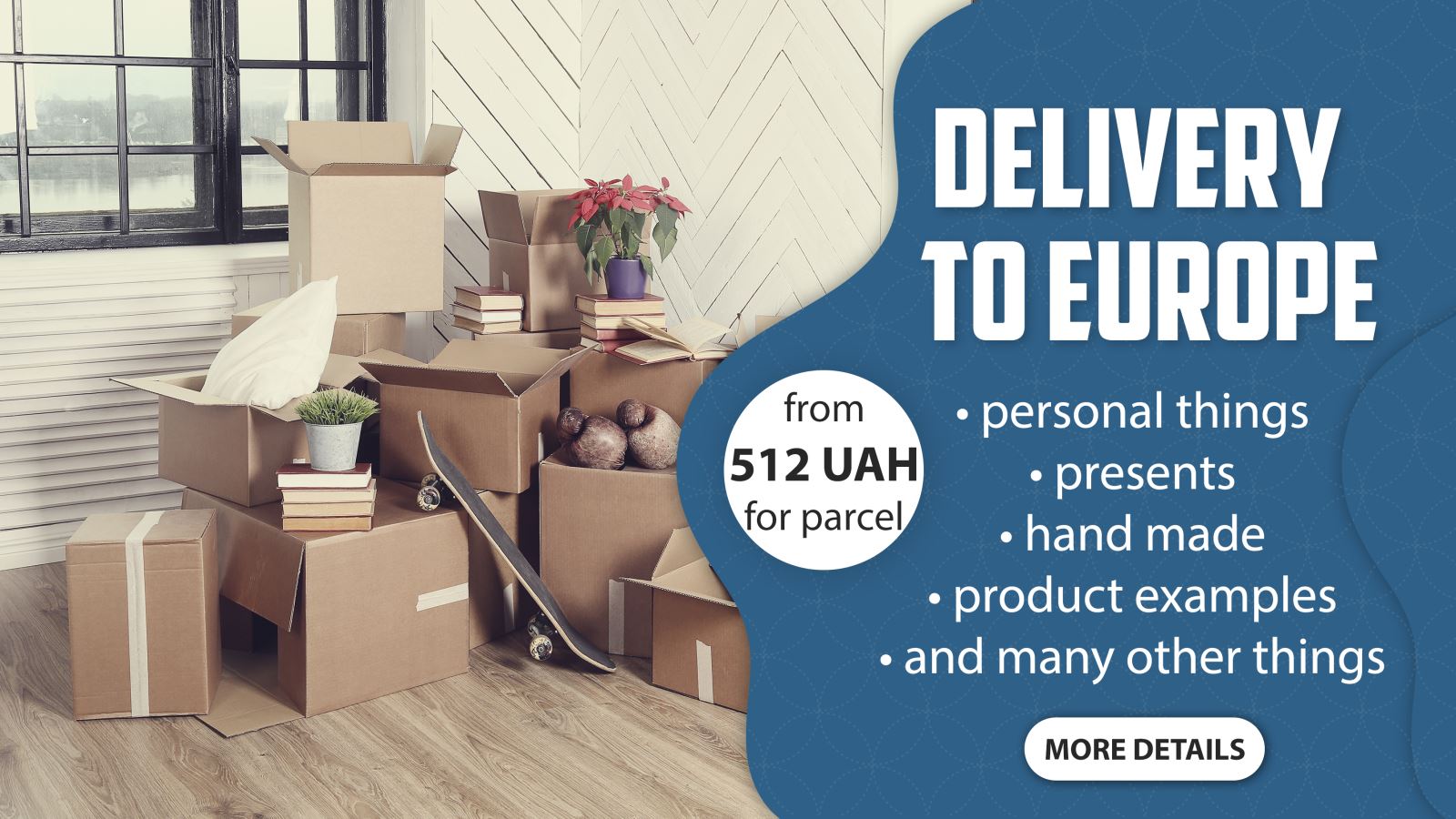 UPDATE FOR PARCEL DELIVERY INFORMATION
Dear customers, due to the difficulties that arose at the transit customs post in Europe, there is a significant delay in the delivery time of the parcels that were sent in September 2020.
Undelivered parcels - 4 pcs.
All parcels that were sent in October 2020 are delivered as standard and without interruption.
As part of the expansion of international transportation services, Delivery GROUP presents to your attention the service of parcel delivery from Ukraine to European and post CIS countries.
To send a parcel, you need to contact any of the branches of the group of companies "Delivery" you need to have:
- the things you want to send, carefully read the list of things that are forbidden to send
- contact details of the recipient, which is the full address of residence (including postal code), surname and name and telephone number of the recipient
Our staff will help you pack the parcel, make a detailed description of the contents of the parcel, fill out a customs declaration, and you only need to check the correctness of the data entered and sign the customs declaration
* The service is provided in "beta" mode, ie the current status of the parcel can be found out only by contacting specialists, the approximate time of inclusion of the possibility of online tracking of the status of parcels - 1 month.
When accepting a postal item, an employee of the company is obliged to check the contents of the parcel. The description of the contents of the parcel in the words of the customer must correspond to the actual contents of the box. Be sure to emphasize to the customer that customs officials can check the contents of the box ex officio. Customs declaration CN23 (printed 5 copies) is drawn up for postal items abroad, which is formed and printed after entering all the data in the receipt.

| Direction | Maximum Weight | Maximum Cost |
| --- | --- | --- |
| Germany, Belgium, Netherlands, Luxembourg, England, Austria, Liechtenstein, Switzerland, France, Italy, Vatican, Spain, Andorra, Portugal, Denmark, Hungary, Poland, Czech Republic, Slovakia, Bulgaria, Croatia, Estonia, Finland, Latvia And , Lithuania, Norway, Slovenia, Sweden, Cyprus, Greece, Malta | 30 Kg | 44 Euro |

The payer for forwarding services is the sender. Upon receipt of the shipment, the sender is left with the 5th copy of CN23 and the Delivery Receipt

The size of shipments in the package must meet the following criteria:

• any measurement may not exceed 1050 mm The sum of the length and the largest perimeter (length of the circle) in any direction (except length) may not exceed 2000 mm;

• for bulky parcels: any measurement of the parcel may not exceed 2000 mm, and the sum of the length and the largest perimeter (length of the circle) in any direction (except length) may not exceed 3000 mm;

• the minimum size of the shipment should be: 90 mm x 140 mm x 50 mm;

• the maximum permissible overall dimensions of one shipment are: 120cm X 60cm X 60cm.

Explosives: Firearms, melee weapons and other items specially designed for attack and defense (knuckles, stilettos, paralytic spray cans, knives, daggers, etc.), fireworks, ammunition, gunpowder, engines for rocket models, car airbags

Gases: Aerosols, Gas lighters, Compressed gas cylinders

Documents: permits for the right to bear arms, work books, military tickets, passports and other identity documents

Flammable liquids: Petrol lighters, Oil paints, Glue, Flammable perfumes

Corrosive substances: Batteries with liquid electrolyte, Alkalis and acids, Mercury

Oxidizing substances: Oxygen chemicals, Peroxides, Bleaching powders

Toxic and infectious substances: Pesticides, Agricultural chemicals, Mercury compounds, Bacteria, viruses

Radioactive materials: Scientific devices, Smoke detectors, Objects in ionized chambers

Flammable solids: Matches, Coal

Other dangerous items: Magnetized goods, Engines, Dry ice, Lithium batteries

Other: any products before 1950 (books, figurines, boxes, paintings, icons, engravings, sketches, musical instruments) require the conclusion of the examination of cultural values ​​for export, goods that have the characteristics of a commercial party (a significant number of similar investments ) - more than 2 similar investments, narcotic drugs, psychotropic substances and their analogues, cigarettes, cigars and other tobacco products, obscene and immoral items, alcoholic beverages and other products containing alcohol, products made of gold, silver and precious metals, medicines, vitamins and vitamin complexes, seeds and planting material, electronic carriers of digital and / or analog audio / video information

Long-term foodstuffs in factory packaging (except for products of animal origin) may be sent to European countries, and the total weight of foodstuffs may not exceed 10 kg in one MPV. That is, the parcel may contain any other items allowed for shipment, but the weight of food should not exceed 10 kg.

• Export, temporary export, including by shipment, of cultural values ​​(paintings, musical instruments, utensils and other household items made before 1950) outside the customs territory of Ukraine is allowed with a permit / certificate of export.

• Issuance of permits / certificates is carried out by the State Service for Control over the Movement of Cultural Property or by an authorized person of the State Service for Control with a certain service area.

The shipment certificate must state the value and state that "The item submitted is not a cultural property and may be shipped by international mail".

The certificate is valid for 6 months from the date of its issuance.

• If the sender sends many items of the same name - books, souvenirs, new clothes or shoes in large quantities - it is desirable that he submit a consignment note, which would indicate the number of items and their value. It is also necessary to indicate which books are sent - children's, art, textbooks, technical literature, historical literature.

If you want to get permission to export cultural property, you need to contact an employee of the company - Natalia Sergeevna at +380675578874

IMPORTANT TO KNOW!

International postal items, when moving across the customs border of Ukraine, are presented by operators for customs control.

Customs authorities have the right to open, seize in the manner prescribed by the legislation of Ukraine items prohibited by law for shipment in international postal items or sent in violation of customs legislation of Ukraine.

Postal operators are not responsible for the non-provision or improper provision of postal services as a result of the customs authorities' decisions on postal items during customs control.

• The address must be comprehensive and completely eliminate the need to clarify the data when sending a postal item.

• The address must not contain abbreviated names or any characters that do not relate to the address.

For example: Thomas Hugo, 33310, France, Lormont, 17 rue des Cavailles +33145620241

Corrugated boxes are used for packing international postal items (IPS), which according to their characteristics (thickness, strength, complexity, etc.) can be subjected to technical processing and repeated reloading. Indivisible items in factory packaging (wooden, dictation boxes and boxes made of durable cardboard), which corresponds to the set dimensions and ensures the preservation of the attachment, do not require additional packaging.

In order to avoid movement inside the parcel, items and goods must be tightly packed or filled with fillers (bubbles, paper, material, etc.) to avoid movement of items inside the parcel during reloads and maintenance.

Requirements for packaging of goods, objects, other material values ​​that are sent by parcels and require special packaging conditions:

• glass or other fragile items (utensils, souvenirs, CD…) must be packed in a strong box, packed with appropriate protective material, as well as translated packaging materials;

• liquids and substances that easily turn into a liquid state should fit in hermetically sealed containers. Each vessel must be placed in a special strong box filled with a suitable protective material in an amount sufficient to absorb the liquid in case of damage to the vessel so that it cannot be easily opened;

• fatty substances that are difficult to convert to a liquid state, such as ointments, mild soaps, resins and others, the transfer of which causes less inconvenience, should be packed in the original shell (box, canvas bag, plastic material, etc.), which is then placed in a second box of strong enough material to prevent leakage of contents;

• dry dyes, such as aniline bruise, etc., are allowed for shipment only in hermetically sealed metal boxes, which, in turn, are placed in strong boxes with appropriate protective and absorbent material between the two packages;

• colorless dry powders - should fit in strong containers (box, bag), which in turn should also fit in a box made of durable material;

• precision measuring instruments - in a solid container with gaskets that prevent damage to the attachment during shipping. Devices with glass details are packed in parcel boxes with special fastening. On such parcels the mark "Caution" is put (pasted);

• motion pictures, films and magnetic films - in containers manufactured in accordance with the requirements of regulatory and technical documentation;

• printed products (forms, estimate documentation, etc.) weighing up to 5 kilograms - in a double shell of thick paper. If the weight of the attachment exceeds five kilograms, the parcel must have on both sides (address and reverse) gaskets made of dictation or corrugated cardboard;

• coloring powders - in bags made of polyethylene film, oilcloth, thick glued paper, which are placed in parcel boxes;

• clothing, carpets and other soft products can be packed in a soft shell (fabric). This attachment should be pre-packaged in plastic wrap or other moisture-proof material. The soft shell (bag, pouch) should be sewn with an inner seam. The upper part of the bag (bag) is folded and tightly tied with twine, to which is attached a tag with the address of the recipient (address tag), made of dictation or corrugated cardboard.

The postal operator shall not be liable for damage to items enclosed by the sender in an international postal item, the packaging of which does not ensure their safety.

For each shipment / parcel a customs declaration CN23 is formed and printed - 5 copies. one copy we give to the client, we attach others to a parcel

In the field "SENDER / SENDER" - each customs declaration is signed by the person who is the sender of the IPR. The sender's signature is required. It is not allowed to have the same signature from different senders. The date of filling in the customs declaration is placed next to the sender's signature.

The payer for the delivery service is always the SENDER, payment can be made according to the current capabilities of the company

In European countries, delivery is by courier to the recipient.

Changing the recipient's data is possible within 3 days from the moment the parcel was sent, after the expiration of this term, changing the recipient's data is impossible